📍Gollenshausen, Chiemsee (Germany 🇩🇪)
⚖️ Hundreds of KG
💚 Using the #CSFN app 🌲📲
Today we travel to Germany to meet Kerstin & Norbert 👫; an amazing couple that does have a very special way of doing cleanups💫 and communicating their experiences afterwards🌲🌎 Let's get to know them more in their own words👇💬: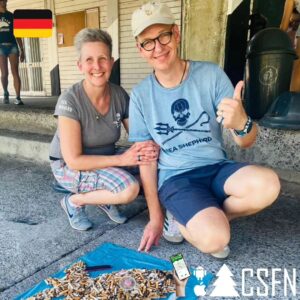 Who are Kerstin and Norbert?
We, this is Kerstin a mountain-loving-soul⛰️ and Norbert a sea-loving-heart🌊, have been collecting trash on a volunteer basis day after day since the first lockdown of Covid in March 2020.
Why do you think litter picking is important?
Because we were inspired at that time living at Lake of Constance by a family with small children by their being and doing. This volunteering♻️ can be done at any minute in any place 24/7 without that much equipment or preparation. #BEtheCHANGE can be so easy and generate a visible difference🫶. We are happy to donate the proceeds of the collected bottle deposit to the society Rettet den Regenwald in Hamburg. In this way, we equally show our solidarity with our fellow human beings far away, whose voices are usually underappreciated and who make an extraordinary contribution to the lungs of our all Mother Earth🌍. Without ceasing! For more on the details and background of our volunteer commitment, be invited to follow along our accounts @kk_korrekturfee and @nobart2 respectively via #KerNoRäumtAuf and #SaubereUmweltIstMenschenrecht where we illustrate how one may be connected to the other, because it is a way of life, "to give = to receive = to give = to receive"!🫂
Our desire is to go out for the good in the world, to get involved with our heart and our soul, because only we ourselves can actively do something for the urgently needed change. So let's just get started! Every day gives us a new opportunity. – Are you with us?
What do you think about the CSFN app?
The CSFN App is clear, easy to use and it shows us what we have collected. In addition, we see that there are many others who also keep nature clean and collect trash.
Lots of 💚 from #CleanSomethingForNothing to you 💫 Keep it up!
#plasticfree  #basuraleza  #actforchange  #rivercleanup  #trashtag  #cleanup  #plogging  #litterpicking  #earthday  #yourbagmakesadifference  #keepnaturewild  #worldcleanupday  #binit  #pickuplitter  #roskapäïvä  #just1bag1000  #2minutebeachclean  #5minutebeachcleanup  #unlitter  #уберипростотак  #와이퍼스  #ustranger  #dosomethingfornothing  #søppelplukking