Berlin LitterPickers 🇩🇪
📍 Berlin (Germany 🇩🇪)
⚖️160 KG 🗑️1600 Lts (2nd photo)
Today it is time for @berlin_litterpicker, a cleanup movement♻️ from one of the most wonderful cities in the World. And you know what?? They are using our Clean Something For Nothing app 📲 and they lead the top cleaner's ranking🏆!
Mrs @annawasilewskicom is the person organizing all the litter picking events 🌿 every Friday @ Böttgerstr 17, Berlin🐻. It is a pleasure to see all the local volunteers that join in every week and the big amounts of trash🗑️ they can pick-up. They take care of all the planning and gear needed (such as gloves, bags, litter grabbers and so on)
We love the positive attitude and diversity of their team👨‍👩‍👧‍👦. On their own words: "More and more volunteers are joining us – young people, parents, children, senior citizens, the mentally handicapped, refugees and everyone says the same thing: It's a lot more fun together" 💚🌍
They are also preparing educational videos with local people from the neighborhood 📚 to raise awareness and improve their lives towards a more sustainable living.
"We come home with a good feeling that we have done something useful👣. Taking action instead of complaining is therapy and at the same time we owe this motto many good ideas, inspirations and networking." 💪
Danke Schön & congratulations for using our clean-app📲!!! It is a real pleasure to help each local group like yours ♻️ organize their cleanups, let's take this beautiful experience💚 to another level. Let's make an impact & #cleansomethingfornothing together!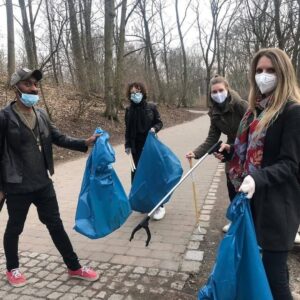 •
#CSFN #plasticfree #1dechetparjour #basuraleza #bethechange #rivercleanup #trashtag #cleanup #plogging #litterpicking #earthday #yourbagmakesadifference #keepnaturewild #justgrabbits #binit #ploggingsquad #roskapäïvä #porpocoquehagamos #2minutebeachclean #5minutebeachcleanup #unlitter #уберипростотак #dosomethingfornothing