Meet The Good Ones 🇩🇪
📍Berlin (Germany 🇩🇪)
👨‍👩‍👧‍👦♻️💚🪅🪄☮️
Today we present you Guy 🙋🏻‍♂️ the master behind @meetthegoodones 📽 . With 🇮🇱 roots, based in 🇩🇪 he shows us the good side of the world 👨‍👩‍👧‍👦.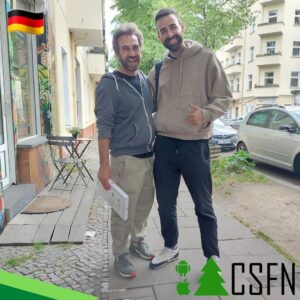 Meet the good ones is a YouTube ▶️ channel where you can inmerse yourself in beautiful karma projects 🤝 of people doing pure good stuff! In today's times we believe that his channel is a must follow 🌍. Here below in his own words 💬:
"There is goodness everywhere, it is just so hard to see between all the bad stuff that surrounds us.
The idea behind "The good ones" is to report good things 🫂 that happen around the world and create films that support them💚.
I wish to inspire people to look for good starting from their immediate environment and ending on a global scale🌍.
I hope that the films will brighten up your day and maybe even encourage you to do good yourself."
Guys has made one of his episodes about our @cleansomethingfornothing clean-app 📲♻️. Go visit his channel and you'll already feel better about our environment, we really mean that.
It was an honor to meet you in person, it won't be the last time 💚
#meethegoodones  #plasticfree  #basuraleza  #noplanetb  #rivercleanup  #trashtag  #cleanup  #plogging  #litterpicking  #earthday  #yourbagmakesadifference  #keepnaturewild  #justgrabbits  #binit  #ploggingsquad  #roskapäïvä  #just1bag1000  #2minutebeachclean  #5minutebeachcleanup  #unlitter  #уберипростотак  #와이퍼스  #ustranger  #dosomethingfornothing