Environmental Fitness 🇮🇱
📍Holot Nitsanim Reserve (Hadarom, Israel 🇮🇱)
⚖️ 1065 KG 👜 9245 Lts
♡ Tracked at the CSFN app 📲
This time we go to Israel to meet Daniel (@environmentalfitness). He is a well-known legend within the cleanup♻️ community thanks to his astonishing cleanups using his body to exercise🏃‍♂️ while removing any short of trash that he finds. He proves that It's possible to protect nature 🏜 and fight pollution while exercising and having fun.
As per his own words 💬 "Environmental fitness is all about translating anger and frustration into raw 💫 power. My philosophy is based on communication with nature, this communication takes place when a person restores a polluted area to its original natural beauty. I believe that when we do nature clean-ups its also important to hear the birds🦅 feel the sand 🏝 between our toes, smell the flowers🌷 eat fruit🫐 hear the river🏞 or ocean. Nature can bring the mind and body into perfect harmony and balance with the universe"
He plays a very active role as an ambassador of the Holot Nitsanim natural park in Israel 🇮🇱 Again, he is an example of how an individual can make his surroundings a better place. He managed to:
✅️ Install bins at the entrance of the lake.
✅️ Cleaning the sand dunes by using a sled like Santa Claus. (Weight sled pull)
✅️ Putting out bonfires left behind by irresponsible campers.
✅️ Reporting on illegal hunting.
And on top of that he manages to be the bridge between the responsible institutions that should take care of the maintenance 🦺 of the park but weren't doing a good job until Daniel stood up!
We can't be happier from the fact that he is also using our CSFN app 🌲📲 beta version and already tracked 1065 KG on it! You are a true and powerful exemple for us to believe that we as individuals can change the 🌍 with our decisions and actions. We will always support your activities ♻️ hoping to see many more of them spreading positive change as much as possible! 💚 Let's #cleansomethingfornothing #CSFN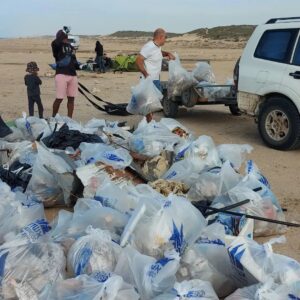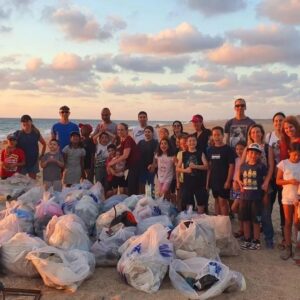 #basuraleza  #rivercleanup  #trashtag  #cleanup  #plogging  #litterpicking  #earthday  #keepnaturewild  #binit  #ploggingsquad  #2minutebeachclean  #5minutebeachcleanup  #unlitter  #уберипростотак  #와이퍼스  #ustranger